Okay, so I usually only post about Meta when they do something off-the-wall wacky, but recently they just shocked me with these two beautiful dresses. So here's some Meta WTF-why-are-you-so-awesome dresses that were just revealed.
Kimono Print Shirred Pinafore Dress
The cut of this dress is a Meta classic. Huge poofy skirt, shirred top, a few rows of lace, and a few bows. Combine that with a beautiful Kimono print cotton, another thing that Meta is known to do beautifully, and you've got one hell of a dress. I am not at all a Wa-loli fan, and honestly, this probably wouldn't be considered Wa-loli, but if more of it was like this, I'd be a fan. This dress is available now, so far in only the red, but their blog is showing a lovely black version as well.
Revival Bouquet Print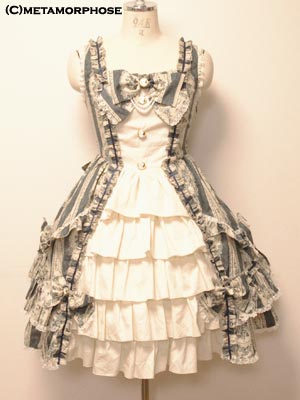 Another Meta classic! They have been doing dresses in this bouquet print since the early 2000's. While it's sometimes hit or miss, I think this one is just beautiful. It has a very Classic and Victorian style to it, and I just adore the little buttons up the front! This dress has yet to even go on reservation and looks like it will be available for the spring. I'm very excited to see some new Classic Lolita pieces coming from Meta!